Futbol or football? Depending on what side of the Atlantic Ocean you're on, you could be talking about two completely different sports, writes native New Yorker Justin Block.
Us Americans call the world's beautiful game 'soccer', while a few salty international sports fans have discerningly termed our NFL's version of football 'armored egg chase' (actually an accurate name for the sport once the demeaning tone of the phrase is stripped away).
But what if Liverpool's 'soccer' players switched sports for a day? What would be their ideal positions and which NFL stars are they most like? We've picked out five of LFC's most athletic players to find out...
Steven Gerrard: Quarterback

NFL fans will argue that the quarterback position is the most important one in all of sports. Footy fans may disagree, but consider all the attributes a winning quarterback must possess: passing power and accuracy, tactical intelligence, cleverness, quick-reactions, work ethic, physical toughness, mental mettle, leadership-wait, are these NFL quarterback characteristics, or a simple description of club captain Steven Gerrard? Frankly, it's an inseparable comparison. Gerrard's NFL equivalent would have to be New Orleans Saints quarterback Drew Brees. Each are of a similar height and build, are remarkable "one-club" types of leaders (Brees started his career with the San Diego Chargers, but has been a loyal Saints man since 2006), and possess explosive passing ranges-they can pick out short ones to keep the attacking rhythm going or go long with the killer perfect ball-with plenty of dynamic offensive weapons to pick out too.
Daniel Sturridge: Wide Receiver


Watching Daniel Sturridge zoom down the touchline in a full sprint after a long pass, it's easy to picture him strapped in with pads and a helmet and chase down a 50 yard bomb from a quarterback. He does so with such an elegant fluidity-he's like a gazelle out there. Sturridge's physical confluence of superior height, pace, acceleration, agility, reflexes, leaping ability, and strength are second to none within the squad, making him a model NFL wide receiver. Wide receivers, with their rare combination of speed, height, and strength, are often an NFL team's best athlete-Sturridge is no different in this respect. Comparisons to the Dallas Cowboys' Dez Bryant are fitting, as each plays the game with a type of hunger and passion that can be misinterpreted as selfishness-a desire to win that's backed up by their athleticism and eye-popping statistics.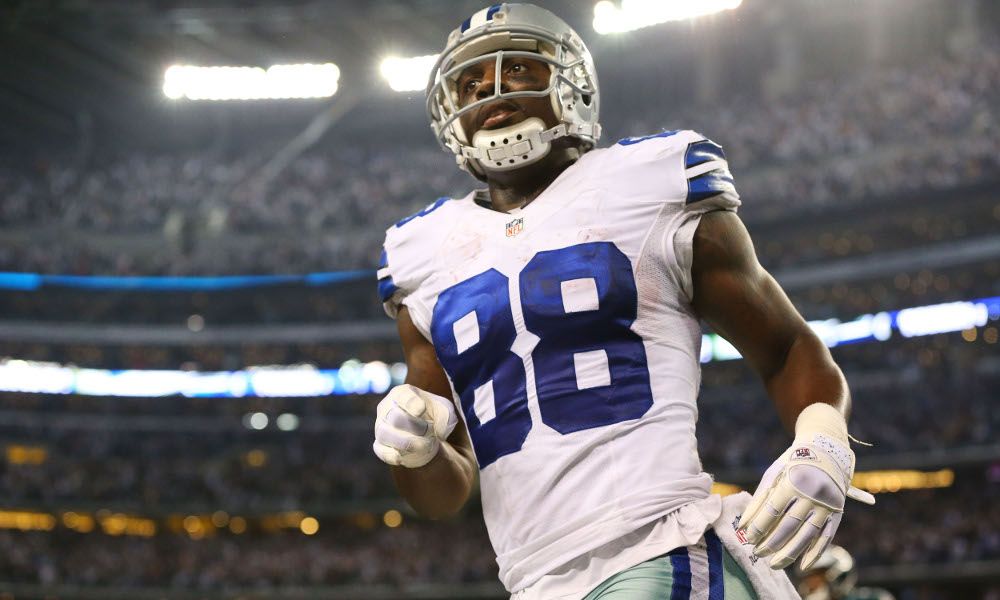 Raheem Sterling: Running Back
Raheem Sterling may have the fastest footwork in the league, and once the young English star gets into a dead sprint after a ball, defenders are left wondering where their two metre head start went. In the NFL, this is called 'running to daylight'-when blockers open up a hole at the line of scrimmage to run through. Running backs use their patience and vision to find the hole, and their speed to burst through and get into the end zone for the touchdown. Sterling's most important improvement this season has been in his off-ball movement. The way he patiently times his runs off a defender's hip to 'daylight' and uses his pace to get to the ball and finish off a movement is a sign of maturity and impressive development. For this, he's much like Philadelphia Eagles running back Darren Sproles. Both are on the shorter side, but that low centre of gravity has blessed them with trickery, deceptiveness and pure pace. Both are also versatile attackers-Sproles can both receive and rush the ball, while Sterling is comfortable with any position across the front three.
Martin Skrtel: Linebacker

Linebackers and centerbacks fill identical roles for their teams. Playing in the middle of the field, they're responsible for one thing, and one thing only-stopping oncoming rushers/dribblers. They're out there to tackle, intercept, and defend their end of the field at any and all costs. Skrtel would have to add about 30 kilos of weight to match St. Louis Rams linebacker James Laurinaitis, but for a footballer, Skrtel is already massive. His mean bald head, broad shoulders and toughness would make Skrtel an adept nasty arm-tackler in that Laurinaitis mold.
Glen Johnson: Cornerback


As a fullback, Glen Johnson is usually matched up against an opponent's speediest attacking player and is entrusted to cut him out of the game. Premier 'Shutdown' cornerbacks perform the exact same task during NFL games-they mark the best wide receivers, shadowing their every movement to make them invisible to the quarterback. Johnson has the height, build, and overall athleticism to be a quality cornerback, but what makes him just like Oakland Raiders defender Charles Woodson is his ability with the ball. Woodson's 13 defensive returns for touchdowns ties him for the league record, while Johnson's dodging runs forward were a key part of Liverpool's devastating offense last season.
Do you agree with Justin Block's choices? Share your comments in the box below...